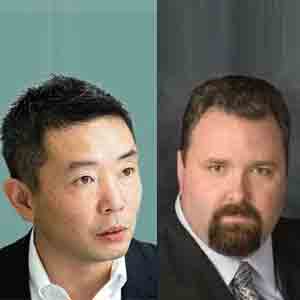 Koichiro Otobe, VP of Business Development and Charles Everette, Director of Cybersecurity Advocacy
Cyber threats and security incidents continue to spiral massively across the globe, causing disruption in businesses operations and losses beyond an organisation's finances and reputation. Unfortunately, the root causes of cybersecurity breaches and attacks are common knowledge and a plight that all organisations share. Despite the advancements and contributions made by cybersecurity companies in the space, the bad actors have become more coordinated and equipped to exploit the new vulnerabilities and evolving threat vectors.
An inherent drawback with many of today's cybersecurity solutions is that they largely embrace a cat-and-mouse strategy. After a threat or attack becomes apparent—mainly an alarming breach—cybersecurity experts would spring to action and try to contain and remediate the breach. However, the damaging consequence of the attack would have snowballed across the organisation by then.
On top of that, considering the current rate of threat vectors (including but not limited to malware and ransomware), the traditional signature-based approach to cybersecurity is barely scalable. This issue has become more profound in today's post-pandemic world, where remote working trends have broadened the vulnerabilities and attack surfaces. In parallel, false positives and the need to frequently update cybersecurity stacks rob security professionals of their time, making it an arduous task to manage security updates across perimeter-less organisations and endpoints.
One thing is sure. Bad actors and threats will continue to loom as long as the cybersecurity solutions in the market are not genuinely proactive.
This is the premise that inspired the conception of Deep Instinct. During its humble beginnings in 2015, the founders sought to leverage the prowess of deep learning to build a solution that would become the next stepping stone in the evolution of cybersecurity. t was a visionary move, given how nascent and novel the notion of deep learning was at the time.
Purposing the Prowess of Deep Learning for Cybersecurity
Fast forward to today; Deep Instinct's endpoint cybersecurity solution, in many ways, has become a Godsend in an increasingly threat-ridden enterprise landscape.
Deep Instinct capitalised on deep learning—the AI technology that best emulates the human brain's learning process—to build a deep learning framework that could proactively ensure cybersecurity. These neural networks get intuitively better with training. As such, through rigorous R&D, Deep Instinct collected, prepared, and fed data to train the neural networks for drawing insights from the data.
We have designed our dashboard with the security analyst in mind. With its intuitiveness, users can drill down into the technical nuance of any information or gain high-level visibility of their security posture
This is followed by making the network instinctual, based on the insights to ultimately come up with deep learning algorithms or 'brains' that can readily evaluate cyber threats.
This 'giant leap' in the cybersecurity space positions Deep Instinct among the league of technology behemoths such as Google, Facebook, and Amazon that has built and offered deep learning frameworks for specific purposes. "It's important to know that we've not taken an off the shelf deep learning framework like Tensor Flow and fed it with data. Ours was specifically built for cybersecurity to look at malicious code. We have different modules and 'brains' for various types of code," says Charles Everette, Director of Cybersecurity Advocacy, Deep Instinct.
"We are the first one in the industry to build a deep learning framework dedicated for cybersecurity from the ground up. Our patented proprietary deep learning platform is powered by the neural network that has been trained with hundreds of millions of raw malicious samples," adds Koichiro Otobe, VP of Business Development APJ, Deep Instinct. The platform's algorithms can determine malicious or benign files, and it learns and gets smarter as time goes.
Many vendors who claim to use deep learning technology in their solutions often feed machine learning algorithms into generic and readily available deep learning frameworks, which isn't efficient. While they may be able to promise a cybersecurity solution with high efficacy, Deep Instinct's platform provides99 percent efficacy, including the ability to detect zero-day threats while minimising false positives. his is unprecedented in the cybersecurity world.
Interestingly, Deep Instinct's platform can go even up to six months without an update, and it would still be as efficient as the day it was installed. In fact, a 13-month-old version of Deep Instinct's brain was able to prevent the infamous LockBit Ransomware-as-a-Service gang's LockBit 2.0 ransomware, which, in August this year, hijacked systems in organisations across Chile, Italy, Taiwan, and the UK. "There has not been a major breach in the last nine months that our technology couldn't prevent," says Everette.
Deep Instinct's solution can protect all endpoints, including mobile devices, servers, and desktops, irrespective of the operating systems they are running on—be it Android, Windows, Chrome OS, or Linux.
Designed with Ease of Use
While most endpoint security solutions in the market— including machine learning derivatives—scan files at a surface level, Deep Instinct's platform performs in-depth scrutiny in milliseconds. Offered currently as an agent-based solution, the platform can monitor any event across endpoints, and everything gets reported back to the central console.
The admin, in real-time, gets alerts, can see threat indicators and suspicious/malicious activities being blocked, and how they map to the popular security frameworks. The platform can even identify trends in malicious activity and endpoint usage, perform reporting and lock machines, or put them in isolation.

"We have designed our dashboard with the security analyst in mind. With its intuitiveness, users can drill down into the technical nuance of any information or gain high-level visibility of their security posture," says Everette. Irrespective of the origin of the threat, common users could also be notified alongside the security administrator.

Enterprises can go up and running with Deep Instinct's platform in just two weeks to thirty days. The REST APIs enable businesses to seamlessly integrate the solution with existing systems and automate security protocols and processes. "We have a comprehensive certification program where we train clients to administrate the platform," says Otobe. Companies can utilize their own deployment methodologies and change control processes while integrating the platform. Neither does it interfere with other products, nor does it have the deployment and maintenance overhead of typical cybersecurity products. "We had one client who rolled out the platform across 40,000 endpoints in just two weeks," says Everette.

The Answer to Proactive Cybersecurity

Owing to its strong value proposition, Deep Instinct has claimed an international reputation in a short span of time. The company has clients across various industry verticals, including government agencies and managed security service providers. Everette recalls the success story of one of their clients, a global manufacturing company that was in dire need of a simple, holistic, and tamper-proof solution that they could consensually rollout across all of their branches with minimal IT overhead. Post-installation, Deep Instinct was able to perform wonders for this client. "By detecting ransomware, our platform saved them over a hundred thousand dollars— in a single quarter—that would otherwise be spent fixing infected systems," prides Everette.

"We are the first one in the industry to build a deep learning framework dedicated for cybersecurity from the ground up"

"We also have educational institutions that haven't suffered any ransomware attack in over two years. Before Deep Instinct, these organisations averaged about 750 attacks a quarter, from students misusing the systems knowingly or unknowingly," adds Everette. Thanks to Deep Instinct, SMBs, in particular, can be less dependent on cybersecurity experts, and they would be relieved from the burden of handling false positives and frivolous threat hunting. Having carved a unique niche in the cybersecurity landscape with a cutting-edge offering that embraces a prevention first strategy, Deep Instinct aims to broaden the scope of its platform to protect even the cloud platforms. The company has recently shifted its global headquarters from Tel Aviv to New York and established offices in the UK and Japan to capture the respective regional market and go global. "The sky's the limit in terms of how we can repurpose the power deep learning to enhance cybersecurity," concludes Otobe.